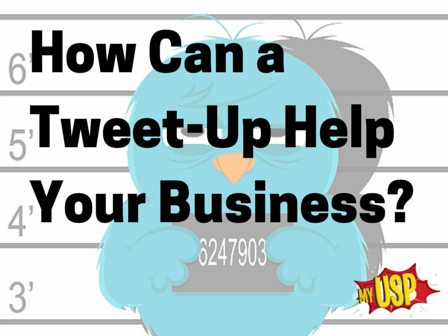 A what??? A Tweet-Up.
WHAT IS IT?
A Tweet-Up is an online meeting; a gathering on Twitter of people who have a common interest. It could be local businesses/residents or an industry type.
Attendees use either the host's Twitter page to follow the conversations or search using a hashtag. One I've recnently been involved in use @LymoTweetUp [links to the Twitter page] and #LymingtonTweetUp.
To recap, the # symbol, called a hashtag, is used to mark keywords or topics in a Tweet. It was created organically by Twitter users as a way to categorise messages but now appears on other social media sites. This means you can type in something like #USP into a search box on a particular social media site to find anything posted with that hashtag in it.
I've not taken part in an other Twitter Hours, but there are hundreds. Here's a list of UK ones.
REASONS TO DO IT
So far here's what I've found as good reasons to invest the time.
Meet other local business people online and subsequently meet them offline
Meet potential clients by getting your business exposed
Raise your profile locally and online
Introduce people you know who would benefit from knowing each other
And, this might not be relevant to you but, the more you use online marketing tools, the more comfortable you'll be using them and moving onto other platforms and opportunities. They're NOT going away.
MY OWN EXPERIENCE
Creator of the Lymington Tweet-Up, Shirley Bonnett, recently asked me to co-host LymingtonTweetUp and yesterday [17.8.15] I went on to host it on my own. Shirley was away in Italy.
I tried to get as many involed as possible so, for each week, made promotional images and a video. I also created images for the TweetUp Hour itself.
Here's the second week's video:
Because hosting the hour is more hectic than I could ever have imagined [replies, favourites, retweets, reading, hashtaging everything & messaging people to take part etc] I scheduled some questions/talking points to go live on Twitter via Hootsuite at the start, 15 minutes in and 30 minutes into the hour. The idea is to keep the conversations moving, guiding discussions and encouraging networking. It soons gains momentum and grows a mind of its own.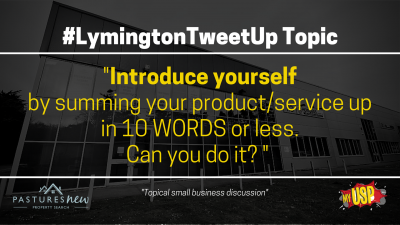 MY PAYOFF [and yours too]
Each week, regardless of hosting it or being an attendee, I have gained Followers and all the other reasons I mentioned above. You can easily do the same too.
2 -STEPS TO GETTING INVOLVED
Click on this Tweet hour link and check out a few of the hashtags for suitability for you and your business.
Schedule the time and prepare for the hour by seeing who's taken part before and who you'd like to connect with. Connecting during the hour makes it more comfortable than doing it directly at a random time. It's common ground. It's good to follow-up with people after the hour too.
THE WIND UP
This may not be for you, but I'm finding it a useful and satisfying way to network without leaving my desk. Whilst still a Tweet-Up Virgin, I'm keen to investigate the vast array of other Hours out there.
Good luck if you decide to delve in. If not, what new have you tried lately? I love new marketing concepts and ideas. Please let me know tim@myusp.biz.
Tim Coe
P.S. Why not share this page with friends [share buttons below] and follow me on Twitter for more marketing perspectives and opinions?
Follow @myUSPbiz