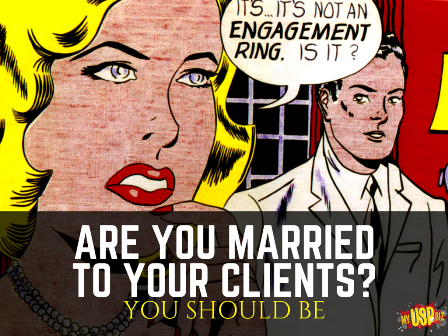 DON'T JUMP INTO BED WITH NEW PROSPECTS UNLESS YOU REALLY MEAN IT
I have always said that the words you choose to describe your business is the most important business decision you'll ever make. Well, how about the quality of the relationships you have with your clients as the almighty challenger to that mandate?
You shouldn't be selling to a particular person or company unless you're planning on a long-term relationship. The future repeat business could be described as 'dating' because you liked the experience so much, first time round, you want more.
The value of the connection you share with your customers, and how they feel about you, directly effects the likelihood of them coming back or giving you that all-important referral. Obviously, you want a relationship based on unquestionable trust wherever possible…just like a long-lasting successful marriage one could argue.
FAMILY AND FURNITURE
Have you heard the phrase 'An Ambassador For Your Company'? I'd call it someone who feels so close to the business he [or her] feels like a part of the family to you. From his perspective, he feels like a part of your furniture.
Is that a scenario for a perfect and fruitful relationship where both sides gain? Too often one party can feel hard done by. Either the company feel they provide too much for the money, or the buyers feels what they receive is too expensive with not enough value. Getting the perfect harmony can be tricky but doesn't have to be.
"No One Should Win Outright"
CREATE THE POTENTIAL FOR SENSE OF LOSS
In order to get the balance right there are plenty of options for you to make a client feel warm & fuzzy inside about doing business with you. The overall customer experience extends far beyond the quality of the product or service itself, or improving that product. You want a state of equilibrium where both parties would feel a sense of loss if the other party was not present.
3 CLIENT AFFILIATION TECHNIQUES YOU SHOULD ADOPT TODAY
1. Regular client contact:
Phone, greetings card, text, Tweet, or personal visit: ask questions like, "How is everything we're doing for you? What can we do to…. I saw this and thought of you. We have developed product 'X' and would love your feedback before we release it. What is it that we do you can't get anywhere else?""

2. Invite them to an event:
Everyone loves an invite and to meet your clients face to face must surely be the best way to bond? Run an in-house workshop, hire a venue with celebrity look-a-likes or charter a yacht.
3. And finally, make them feel as if they are your ONLY client:
Easier said than done. Finding the best solution for each customer, quickly, correctly and with a helpful attitude obviously involves time. You no doubt feel you offer excellent customer service already, who doesn't? But do try using this rule of thumb to see if your existing care reflects that imaginary scenario.
IT'S UP TO YOU
Show the most valuable asset in your business [your clients and NOT your employees as some have you believe] you appreciate their business however you can. Once you take a client for granted they'll feel it. A competitor can knock on their door any time, any day and before you know it they stop returning your calls, ignore your emails and divorce proceedings will be imminent.
Tim Coe
8.6.15
Author of 'Your Utterly Seductive Proposal'.