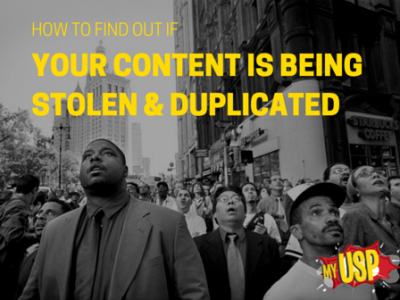 If you spend time and effort writing and creating content you'll want to know if anyone, or anything, is swiping it from your website [or blog] and posting it as their own.
You can easily find out with this smart little tool simply by copy and pasting your webpage URL into copyscape.com
I've just found it and given it a go for free. There are paid versions and, as yet, I don't know how many searches the free version allows.
Below is a search I did on one of my articles which shows 'no results found' and offers me other pages from my website to seach without going back and copying the links. Pretty cool.
Tim Coe
P.S. Why not share this page with friends [share buttons below image] and follow me on Twitter for more marketing perspectives and opinions?
Follow @myUSPbiz