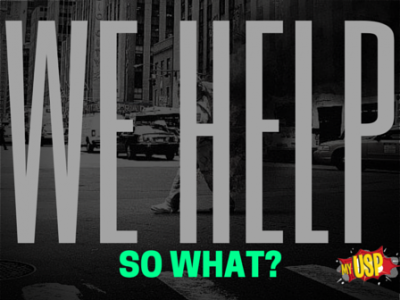 Whilst just reading an article….
about creating a USP [this is my area if you don't know me] and the author said to start with the words, "We help…"
Whilst the majority of business owners would do very well to raise their games and even begin talking about their business this way i.e. in terms of helping, rather than the standard, "We do..", it is still self centred.
Why?
Because it starts with the word WE.
It's talking about themselves [the business] and this is wrong. The whole point of a business existing is to service the customer [thank you sir John Harvey Jones for that line, I think].
Staff with bad attitudes, "We're doing you a favour mate," would do well to remember that. It's all about YOU, the client, the buyer and person with the money who enables a firm to stay afloat.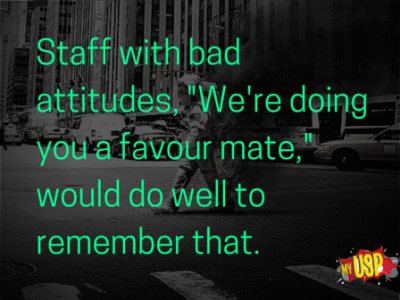 Next time…
try using "YOU GET…". Begin marketing related sentences and headings this way. Or even at a networking event when it's you time to speak. Would you rather heat what you can get or what someone does?
This makes what you're saying focused entirely on the recipient. This is how it should be if you want to talk the language of providing solutions. Remember, people only ever buy anything for one reason, to solve a problem.
Talking about what you can do for someone is far more engaging, and polite, than talking about what you do. And quite frankly, who cares what anyone else 'does'? We've all got enough to contend with ourselves in our own little worlds.
Examples
I've just thought up some examples to make the point.
We help people with their I.T. – "You get the fastest working computers you've ever experienced."
We help people enjoy their gardens by cutting their lawns – "You get the smoothest and greenest grass this side of Wimbledon."
We help people remember their wedding day through video – "You get 3 hours and 3 formats of intimately filmed, meticulously edited, flawlessly presented wedding video wrapped up in a beautiful ribbon bound box with a bright clean white swan on top, with majorettes strutting and a ride in Concorde if you opt for my sister to make your wedding cake too. Whadaya say?"
If you're the type of person I hope you are, the second parts of those statements will sound far more appealing to you as a buyer. With that said, can you talk about your products this way from now on. It's what turns people on to buying after all.
Happy communicating to you all.
Tim Coe
P.S. Why not share this page with friends [share buttons below image] and follow me on Twitter for more marketing perspectives and opinions?
Follow @myUSPbiz