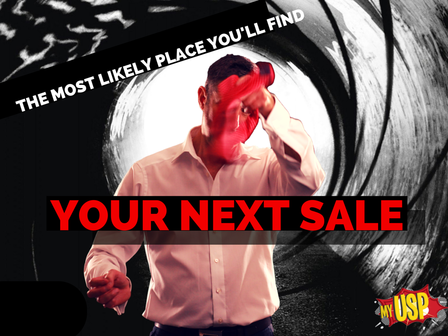 THE THOUGHT OF YOUR NEXT SALE SHOULD ALWAYS BE ON YOUR MIND, SO WHERE IS THAT SALE COMING FROM?
Answer: the place you're most likely to find your next sale is your existing customers. Forget chasing new ones for a moment.
It's always confused me [and always will] why companies appear to focus more on seducing unknown clients to buy, often with incentives, rather than looking after existing and more deserved buyers.
TURN FRUSTRATION INTO FAST CASH
We have all been frustrated by the latest mobile phone offer that kills our existing contract tariff, yet we might have been with that provider for years. where's the 'thank you'? It's extremely insulting someone walking in off the street receives a better deal.
So back in your business, why would you spend 6 times as much selling to a complete stranger as someone that's already bought? You've already done the hard work of persuading someone to part with their cash? If an individual has bought from you once, chances are, they'll buy from you again.
GROWING PAINS…OR NOT
There are 4 ways to build a business:
1. Find more customers
2. Increase your prices
3. Increase the customer lifetime value i.e lifespan
4. Sell more often to existing and repeat buyers
Or to put it onto a smart and memorable sentence [courtesy of my friend and international speaker Andy Edwards], "More people, buying more, more often and for longer."
Finding new clients is heavy on your resources and no one enjoys selling or being sold to, in the main. Increasing prices is unpopular and awkward. Asking for more money should come with an increase in value for the buyer, but again, that costs you.
Increasing the customer lifetime value makes resounding sense as they're already part of your 'family'. But selling more often to existing and repeat buyers puts money in your bank today and not next month or next year.
DO YOU WANT TO GROW YOUR BUSINESS?
Then look at what is already under your nose and make a play for getting your products and services back into the hands of those who have already experienced them.
Previous buyers are the most likely place you'll find your next sale, no question. To make the deal sweeter for you consider this: the sale will be fast and uncomplicated.
So next time a deal is closed, consider calling it a deal opened; a brand new business relationship that will be fruitful, long and beneficial to both you and client. Always stay in touch by being creative with your follow-up and you'll have clients for life.
Finally, if you're based in the UK why not consider showing your best business clients you care? You host an event in-house and I'll provide the content and vivacious workshop. Investing in building stronger relationships and dissuading buyers from going elsewhere begins from a mere £24.85 + VAT per attendee. What's a buyer worth to you?
My personal mobile is 07967 565 070 or email me tim@myusp.biz.

Tim Coe
23.4.15
PS If you liked this please share on social media or email to friends who have B2B businesses. Thank you.