You often hear selling referred to as a science. I'd have to agree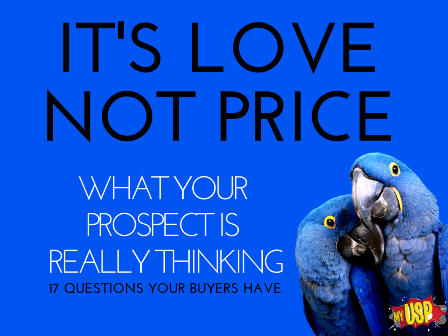 Well actually my friend, and top sales trainer, Antonio Falco says it. Most buyers buy because they want to enjoy the buying experience and feel good about buying afterwards. If you want to check that out think about your own buying experiences, decisions and feelings.
In addition, you very rarely buy from someone you do not like.
I've always been fascinated as to what makes one person say YES to buying product A, and no to product B? The very next prospect through your door could do the exact opposite, so when it comes to marketing to individuals it's extremely difficult to know what's going on inside a person's head.
The aim of this article is highlight buyers' concerns so you have the opportunity can address them now, BEFORE your prospect catches you unaware.
So what is it that your buyers are actually thinking when they buy from you?
17 things your buyers are really thinking
1. IS THIS THE RIGHT PRODUCT?
2. IS THERE A BETTER PRODUCT?
3. IS THIS THE RIGHT PROPOSAL?
4. WILL THIS TRULY SOLVE OUR PROBLEMS?
5. WILL I, OR MY PEOPLE, USE IT?
6. WHAT WILL OTHERS THINK OF ME BUYING THIS?
7. IS THIS GOING TO BE A MISTAKE LIKE PAST DECISIONS?
8. WILL WE ENJOY USING IT?
9. WILL THEY TAKE CARE OF US AND SERVICE US?
10. AM I BETTER OFF SOMEWHERE ELSE?
11. WILL SOMETHING BETTER COME ALONG NEXT WEEK?
12. DO I KNOW ENOUGH
13. DO WE HAVE ALL THE INFORMATION WE NEED?
14. SHOULD WE BUY 'X' INSTEAD?
15. SHOULD I INVEST THE MONEY ELSEWHERE OR JUST BANK IT?
16. SHOULD I JOIN A YACHT CLUB OR A GOLF CLUB
17. WHAT'S FOR LUNCH?
What difference would it make IF you could answer all 17 questions your prospect has before he could talk himself out of the purchase? How easy and natural would sales be?
So next time you think price is on your buyer's mind, think again. If price was the primary factor is the majority of buying decisions Apple wouldn't sell anything.
What can you do to seduce your buyers into falling in love with your product or service?
HAVE FUN MAKING YOUR COMPANY LOVABLE
HAVE FUN MAKING YOUR CLIENTS MISS YOU
HAVE FUN MAKING YOUR COMPETITORS JEALOUS
How do you go about doing all of those things?
Here's some ideas to get you going:
EVENT INVITES – PHONE CALLS – CHOCOLATES
GIFTS – HELPFUL INFO – GREETINGS CARDS
SEND SOCIAL MEDIA TO COMMUNICATE
USE VIDEO EMAILS TO MAKE IT REAL
TRIPS OUT – VISITS IN – GIVE BOOKS
TEXTS – EMAILS – LETTERS – PARCELS
NEVER IGNORE OR FORGET THEM
MAKE REFERRALS TO HELP THEM
TELL THEM HOW YOU FEEL
MAKE THEM FEEL SPECIAL
IT'S ALL FUN!!!
It doesn't have to be expensive or complicated
You only have to do but just enough to make someone feel valued and not ignored or forgotten. When did a company you bought from, last contact you again personally when there was no upsell involved? I mean just contact you for the hell of it? It doesn't happen does it? It's so easy to make a fantastic impression and create loyalty for only a few pounds or a minutes of your time.
How likely are your competition to do ANY of the above? Even if you only implement one or two ideas you're going to stand out and be remembered for the right reasons.
Business should be fun and this makes it fun for both you and your clients. What better way to do business is there than with a smile on your face…maybe to do it with a little love?
Tim Coe
25.11.14