IF, you have created your USP first that is!
Once you have taken the time to nail down exactly what it is you wish to be:
known for
how you want to be remembered
how people will talk about you
what they'll say to refer you
and what they'll fundamentally think about you…
…then, just like nature always finds a way, marketing will find  a way.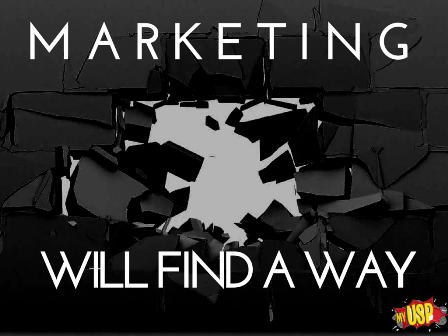 The investment of your time into uncovering what makes you exciting and worth talking about is going to ensure you get your new message out. I like to think of discovering these new marketable qualities like mining for diamonds. You have to dig and search and when you find rough gems they require polishing and yet more work. But it's worth the effort as you end up with a high value asset
The mere fact you have something big, new and important to say will make certain you search out the best medium for delivering your new influential and compelling message right into the hearts and minds of your prospects/clients. You will find a way.
Armed with an almost endless number of reasons why your ideal target clients should be buying from you, not anyone else, you will feel unstoppable! You won't feel your job is done until others you want to do business with recognise your worth, and can grasp how you solve their problems in a far more valuable way than your rivals.
I'd define a USP as a 15-20 word phrase that powerfully conveys why your ideal target client should do business with you over any of your competitors.
The acronym USP stands for Utterly Seductive Proposal. Not unique selling point or proposition. Who wants a 'selling point' rammed down their throat? We're not living in 1985 any longer.
If you're tired of missing sales opportunities because you feel they didn't get your message properly, register for one of my complimentary 3-hour workshop style events. They take place in southern England and the next one is 3-6pm on Tuesday 13th January 2015.
Tim Coe
15.12.14