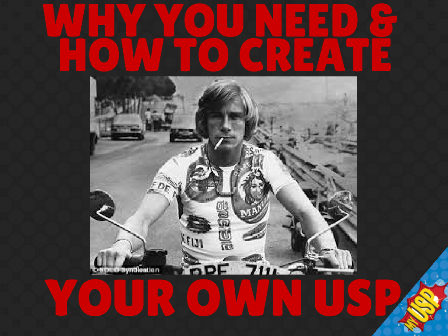 THE JAMES HUNT FACTOR
In the same way that you could argue confidence is the common denominator to success, then a USP is the common denominator for all your company marketing. 1974 Formula 1 World Champion James Hunt was not short on confidence. Everything he did that drove him to his world championship had confidence stamped all over it. In the same way James went about life with a smothering of confidence, your business should be going about its marketing and applying the colour of your already decided and planned Utterly Seductive Proposal. Once you have nailed you colours to the mast, every decision you make about the future of your company should be filtered through the Utterly Seductive Proposal in order to see how aligned it is.
It's likely that many of your prospective clientèle have difficulty deciding which option in your industry is the one that best deserves their time, money and trust. This selection can be a daunting process for many, just think about buying a new mobile phone, mobile phone contract, changing ISP, holiday, car insurance, business consultant or mountain bike. If you haven't dealt with a firm how can you tell what the experience has to hold? A colourful and well thought through USP does away with any uncertainty. You'll be telling your prospects exactly what they can expect to receive if they choose you.
In a nutshell, these are the categories of question you answer to find your own USP:
1. Who is your ideal target client?
2. What are the main benefits of your product or service?
3. What makes you remarkable and what value can you deliver that no one else can?
Now you craft a statement that appeals to your prospects and captures 2-4 aspects of your individual brilliance. One or two sentences, 6-20 words should do it. Sound easy? Try it. I have an exclusive method I use that brings out qualities individuals didn't realise they were sat on, or didn't appreciate were so valuable to their customers.
SWIMMING IN QUICKSAND
Most companies do something differently to their competition but this doesn't always mean it is a good thing. The subject if standing out is huge as it underpins one's business. In an ideal world, and armed with a brand new USP, all your marketing would need re-thinking and re-writing. But that would be worth it. Re-equipped with your new promotional messages, you can now unleash on the world industry changing ideas. You can re-set the bar for how your industry should serve customers. Everything a prospect or customer comes into contact with should convey your USP. This way you become known for something and stand out above others. Without it, you're swimming in quicksand and only guessing what your buyers want. Apart from taking the decision to actually start a business, to repeat myself, your USP really in the most important business decision you'll ever make.
THE BEST QUESTION OF ALL
Discovering your own USP can be an involved affair but I do have a system which we will go through in the next chapter. If you were to stop reading this book right now, and only remember one solitary sentence, I'd wish for it to be this:
"IF I AM YOUR IDEAL PROSPECT, WHY SHOULD I BUY FROM YOU RATHER THAN ANY OF YOUR COMPETITORS, OR INDEED DOING NOTHING AT ALL?"
In an ideal world I'd sit in my office all day, every day, asking myself this question continually and implementing new changes in my business that came from repeated probing. It forces you to dig deep. The question is not easy to answer and relies on you standing back and looking at your business from an objective angle, an angle the customers will look at it from. What do they really want? Why do they really buy? Why do you use supplier co. A over supplier co. B yourself? Can you define what it is? It can be a small thing, but when you spend money small things are big things…and a lot of small things make an enormous difference.
Marketing that doesn't influence a decision is a waste. It's not only a waste of your time, effort and money, but also a waste of the reader's time. The next time you have something to say your audience may not give you the time of day if you have not been respectful previously. So when next you decide on a piece of marketing remember this article and ask yourself these 3 Utterly Seductive Proposal type questions:
1. Is it clear what you are offering? It may seem obvious to you but ask others before making it live. I have designed marketing messages many times and been told that you that need a degree in either alternative comedy or unconventional English to understand what I am getting at. To me it made total sense though.
2. What are you trying to make the prospect feel; happy, relieved, excited, confident, energised, or quietly smug? Do your words convey the intended feeling? Use the appropriate vocabulary.
3. Can any of your rivals take your piece and call it their own? Have you sculpted a message that can only be applied to your businesses? Is your USP so deeply rooted in the marketing and creating an offer, benefit or proposal so narrow it can only be delivered by you?
Tim Coe
Why not follow me on Twitter for more marketing gems?
Follow @myUSPbiz