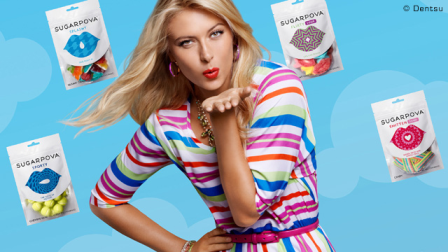 That headline is the yardstick of USA TV presenters my friends. Hear her first sentence here with the "aint" word – [I couldn't believe that when I heard it and doesn't appear to be a guest on the show at all.}
Tennis TV
So the point of this article – Maria Sharapova was to temporarily change her name to 'Sugarpova' [sounds like a over-sugared pavlova to me] to promote her sweet brand called Sugarpova. This was intended to be a name change for the August 2013 US Open Tennis Tournament.
She decided not to do it. So she decided against promoting her sweet brand did she, or was the job done by then i.e. journalists crawling all over the story?
The publicity this has caused has propelled her sweet brand into the limelight evidently, no mistaking that. Did Maria [or her PR Company rather] get the wished-for outcome with no real serious intention of ever changing her name in the first place? You can't help but think that.

The Gift of Gummy Never Tasted so Yummy
Whether you think that is a pathetic headline or not, it can be found on the 26 year old Russian's website www.sugarpova.com where you can buy 'the taste of victory' in Sugarpova bags with themes such as Silly, Flirty, Sporty, Cheeky, Splashy, Sassy and Quirky etc [sounds like another version of the Spice Girls] and suck on green tennis balls!
I'd never heard of this company before as I am sure the majority of UK citizens hadn't. Sugarpova shops can be found in the US only with 4 outlets on Dallas, 3 in LA and 6 in Manhattan.
Here's what her own website says under the ABOUT tab:
Sugarpova is a premium candy line that reflects the fun, fashionable, sweet side of international tennis sensation Maria Sharapova. Maria has created her own candy business to offer an accessible bit of luxury, interpreting classic candies in her own signature style. A long time candy lover with a surprising sweet tooth, Maria is bringing a new level of quality to the candy category through fun, unexpected types and shapes – with playful names to match. Wrapped up in a beautiful package, it's both style and substance, just like founder Maria Sharapova.
Deserved Free Publicity?
I'm sure this name changing 'stunt' has propelled her business further forward and fair play for a different approach for gaining the exposure. If you have earned the right to play on a worldwide stage such as an international tennis tournament then one could argue that she should make the most of it. We don't have to listen and be spoon fed the news by the media after all. For what is it worth, I believe it was an extremely astute move and admire it.
So, if after reading this you're looking to 'Give the Gift of Yummy' anytime soon [God forbid], and you live in England, then I'd suggest you only have three options:
A total re-think and another gift all-together
Fly to the USA and visit one the shops
Or create your own version of gummy [Jelly Babies and Cream Eggs mashed up maybe?]
Tim Coe
Why not follow me on Twitter for more marketing gems?
Follow @myUSPbiz