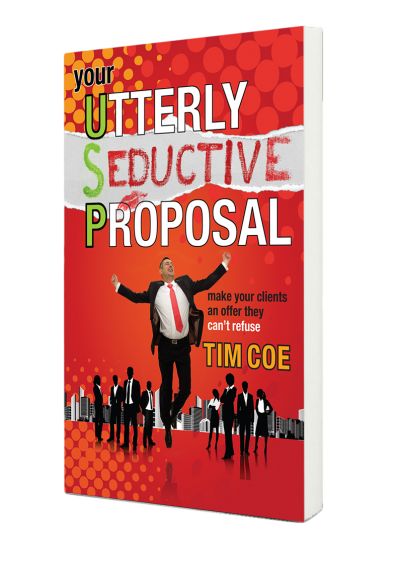 GO FROM INVISIBLE TO INVALUABLE

Whether you're a business owner, a Managing Director, a marketing mogul, an entrepreneur or sales person… 'your UTTERLY SEDUCTIVE PROPOSAL' [USP] is the guide to crushing your competitors.

After 28 years of running my own businesses I believe the actual words and language you use in your marketing are EVERYTHING when it comes to grabbing the attention of your ideal target customers and turning them into new sales enquiries. This book will explain why your Utterly Seductive Proposal is the foundation all your marketing should be built upon. It is the birthplace of your promotional communication.
My book includes a 5-Step USP Process I developed so you can uncover exactly what it is that's special about you and what you truly stand for. It's one thing knowing yourself but another conveying this value to your preferred customers. Getting your message across is vital to winning new business.
REASONS TO BUY YOUR COPY TODAY
• CREATE PRODUCTS PEOPLE CAN'T STOP TALKING ABOUT
• MAKE PRICE OBJECTIONS A THING OF THE PAST
• NEVER COLD CALL AGAIN
• MAKE YOUR COMPETITORS LOOK MEAN, OBSOLETE AND INCONSIDERATE
• CREATE COLOSSAL REPEAT BUSINESS
• INCREASE YOUR MARKETING SPEND ROI
• ONLY SELL TO PEOPLE WHO WANT WHAT YOU HAVE
• STOP BLENDING IN AND START STANDING OUT
• ENJOY BUSINESS, ENJOY LIFE
HOW TO ORDER
Order for only £12.97 + £1.20 postage here. A 200 page, 50,000 word paperback will arrive with you in 3-5 business days.